On August 18, 2023, Legal Insight unveiled the highly anticipated "Guide to Premium Intellectual Property Legal Services Brands (2023)". This comprehensive guide is a profound exploration of China's intellectual property legal service brands. Through methods including public information retrieval, lawyer/agent and client surveys, and industry expert interviews,Legal Insight conducted an in-depth analysis of intellectual property lawyer teams, law firms/agency brands across 31 provinces, autonomous regions, and municipalities (excluding Hong Kong, Macau, and Taiwan). The guide showcases 65 law firms, 197 lawyers, 10 agencies, and 27 patent agents.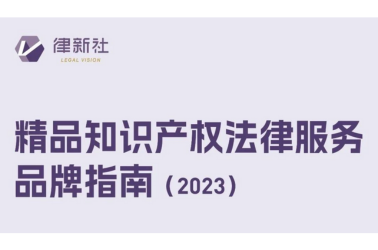 Chang Tsi & Partners stood out with remarkable achievements and professional dedication, earning a spot in the guide's list of featured firms. Simultaneously, four of our lawyers were recognized in the guide as exceptional legal practitioners. This recognition underscores their exceptional skills and significant contributions in the field of intellectual property. Furthermore, we take immense pride in being shortlisted as a "2023 Top Intellectual Property Professional Brand".
As a law firm committed to delivering top-tier legal services, Chang Tsi & Partners will continue to uphold the ideals of excellence. We remain dedicated to providing comprehensive intellectual property legal support, contributing to the thriving development of the legal industry and offering unparalleled service to our valued clients.