Chang Tsi & Partners' Founding Partner, Spring Chang, has been recognized in the esteemed WIPR Leaders 2023 Directory. This significant achievement showcases Spring Chang's unwavering commitment to delivering exceptional IP legal services.
WIPR Leaders serves as a comprehensive guide to the world's foremost IP practitioners, featuring a distinguished list of over 2,500 lawyers specializing in patent, trademark, and copyright practices. The rigorous selection process involved a thorough nomination period, followed by meticulous vetting by the WIPR research team. The team assessed nominees based on their extensive experience, industry expertise, notable cases, and contributions to the field through activities such as writing and teaching.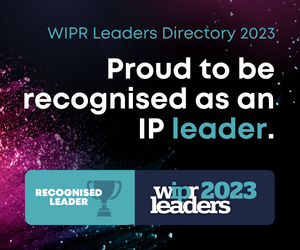 Spring Chang's inclusion in the directory is a testament to her stellar reputation as a leading intellectual property lawyer. WIPR comments, 'Named the World's Leading Intellectual Property Lawyer by Chambers & Partners, founding partner Spring Chang is a razor-sharp IP attorney who has advised and represented hundreds of major electronics, consumer, pharmaceutical, apparel and jewelry companies in the Chinese market, as well as Chinese companies overseas.'
We are immensely proud of Spring Chang's well-deserved recognition in the WIPR Leaders 2023 Directory. Her dedication, expertise, and unwavering commitment to excellence continue to position our firm as a trusted leader in the field of intellectual property.
Chang Tsi & Partners is a renowned intellectual property law firm committed to providing comprehensive legal solutions to clients worldwide. With a team of highly skilled professionals, we offer top-tier legal services in patent, trademark, copyright, and other IP-related matters. Our unwavering dedication to client success and our extensive industry knowledge set us apart as trusted advisors in the ever-evolving landscape of intellectual property.