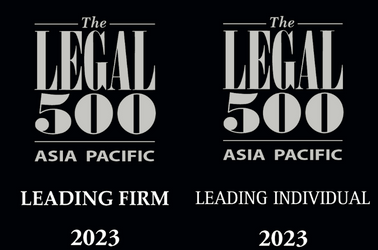 The Legal 500 has recently released its annual guide - The Legal 500 Asia Pacific 2023, recommending the top-tier law firms in different practice areas. Chang Tsi & Partners has been recognized in two practice areas: Intellectual Property (Contentious) and Intellectual Property (Non-Contentious). In addition, Spring Chang, Founding Partner of Chang Tsi & Partners, has been recognised as leading individual.
Commented by The Legal 500, Chang Tsi & Partners is "a go-to firm in China" for the enforcement and protection of IP rights, including copyrights, patents and domain names, which "deliver an exceptional work product every time".
The guide also mentions Managing partner Simon Tsi as a highly rated litigator, as well as other practioners including Tracy Shen, Michael Fu, Michael Wu, Nancy Qu, Litian Xu, David Lee and Yan Gao, covering different areas of IP issues. As commented by the clients during the investigation process, Chang Tsi & Partners has "a very responsible team for any IP matter.'
The Legal 500 is a well-known global legal media, analysing the capabilities of law firms across the world, with a comprehensive research programme revised and updated every year to bring the most up-to-date vision of the global legal market. Its researchers carry out extensive research into each jurisdiction, canvassing law firms and contacting more than 300,000 clients for feedback on the lawyers they instruct.